Donkeys For Sale
Contact us if you don't see what you are looking for. We have other jennets for sale that are not listed. Prices are less on multiple purchases. Jennets sold for pets only and not for breeding will also be reduced. Make us an offer if you see a donkey you love. Good homes are the MOST important thing to us. We want our donkeys to be loved and well cared for.
---
GELDING & GELDING PROSPECTS
PRICED AT $900.00 A PAIR. Jacks and single geldings priced
individually. Reduced prices on geldings sold as a companion when a jennet is purchased.

---

All our donkeys are registered with ADMS.
Micro Mini is not a description used by ADMS. It is a term that folks have started using to describe donkeys 30" tall or under. We are striving to produce tiny "micro minis" that have good balance, conformaton and personality. If you want tiny donkeys that don't look out of proportion check out our babies. All our brood jennets are 31" tall or less. Our breeding jacks are 29" tall and 28" tall.
Click on thumbnail to the left for larger photo(s).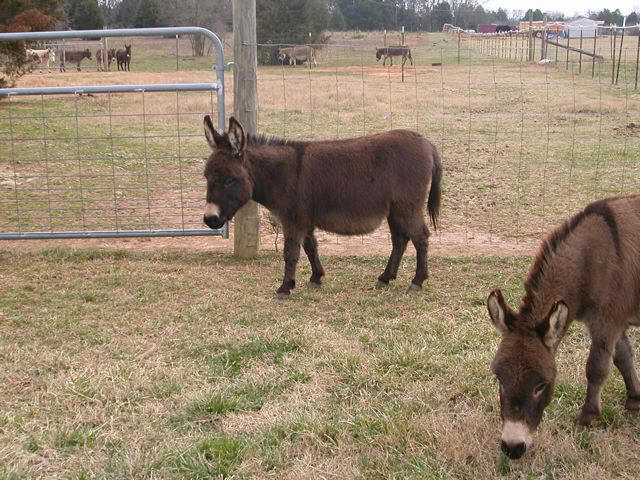 BAF Licorice Jelly Belly - This nice little jennet is for sale to an excellent pet home. Contact us for more information.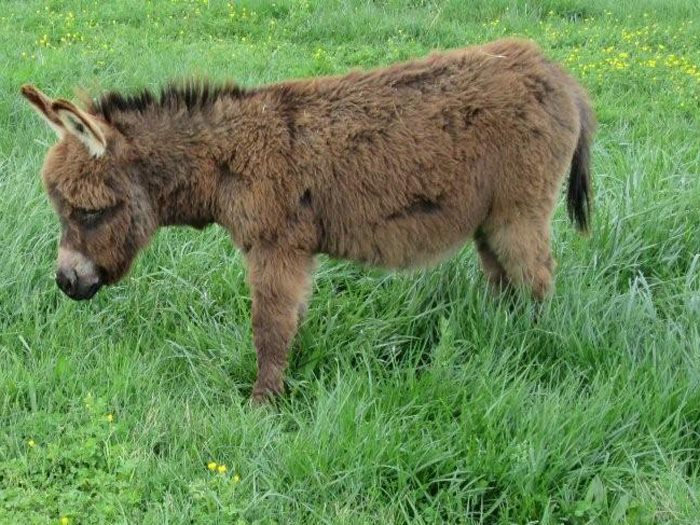 Sold
Liam is a precious little gelding. He will remain small. His sire is Tampa 28 inches tall and his dam is Caprice 29 1/2 inches tall. He will make a great pet or nice little show gelding. Price $500.00
All our donkeys are imprinted at birth. They are ADMS registered and the spotted ones can be registered with ACOSA. We strive to produce tiny, colorful, friendly, well conformed donkeys, but above all donkeys that are lovable with excellent temperament. Each donkey we sell comes with a new lead and halter. They are up to date on shots, hoof care and worming. Our jennets range from 28" to 32" tall. Most are 31" or less. Our breeding jacks are 30" and 27 ˝" tall. If you want true mini miniatures you have come to the right place.
Below is information on how you can put a down payment on your donkey and be sure not to miss out on your favorite ones.
A deposit equaling 25% of the price of the donkey is required to hold it for 30 days after weaning or 30 days after receiving the deposit if they are already weaned. Deposits are non-refundable unless the donkey is injured or get's sick while still in our care during the time previously described.
A payment plan can be set up and we can keep your donkey for up to 6 months after receiving the deposit but monthly payments have to be made and there will be a $25.00 per month fee for their care past the 30 days mentioned above. This will help cover feed, hay, hoof care, vaccines etc.
All donkeys must be paid for in full before picked up or the balance paid in cash upon pick up.
If a donkey is marked ON HOLD I am waiting on a deposit. If the deposit is not received within 7 days of verbal or email agreement the donkey will be put back up for sale.
If a donkey is marked PENDING that means I have received a deposit and they will be held till the date of pick up as described above. If not picked up by that date they will be put back up for sale unless other arrangements have been made for them to remain with us for a longer period of time. Such arrangements may include the $25.00 monthly care fee and monthly payments if not already paid in full.
Deposits and payments can be made thru Pay Pal so you won't lose the donkey you love.
We wean donkeys at 4 to 6 months of age.
Blessed Assurance Farm, Lewisburg, TN
931-364-5057 Cell 615-289-7558. kayy@united.net