We live on a 20 acre farm in southern Tennessee with fields, and a beautiful wooded area with a one acre pond. We started out raising Nigerian dwarf goats when we first moved to the country in 2000. They are such wonderful friendly little goats and great milk producers in a small package. Then one day we visited a local donkey farm and fell in love with miniature donkeys. We recently discovered a beautiful new breed of goats and we are proud to be one of the select premier Mini Silky Fainting Goat breeders in the mid south. Our mini silky goats carry some of the best blood lines available. We are striving to produce gorgeous mini silkies with extreme coats, nice udders and of course wonderful personalities. Please check out our mini silkies pages. I know you will enjoy these beautiful mini silky fainting goats as much as we do.
Shortly after purchasing my first miniature donkeys I met some other donkey lovers and we started the Tennessee Donkey Association, a wonderful, fun and informative club for all donkey owners We started out with a very few members in Tennessee, and now have over a hundred members in TN and other states. I have been privileged to be the Secretary of this club since it's inception, and many of our members have worked diligently to promote donkeys in our area and encourage good care and host or help with fun events for donkeys and their people in the area.

These gentle, easy to care for creatures return more love than you can ever give them. They always want to be hugged and petted. Unlike some animals that come to you mostly to be fed, donkeys just want your attention. The babies are so precious.
We carry our miniature donkeys around for weeks and they sit in our lap till they are too big to fit. We feel so blessed to have been given the opportunity to own and raise the wonderful animals and we know they will bless your life if you take one to love. Donkeys are very hardy animals and are rarely sick. You can teach them to drive a cart or wagon, and they make great team drivers, they can also take very small children for a ride.
If you have an acre or two of land and want some loving pets, let us show you how our miniature donkeys and lovable goats can bring you much happiness. We are constantly listing our donkeys and goats for sale on this website, so, check back regularly on the availability of our animals.
We hope you will visit our entire site and let us know what you think of our site. We also welcome you to visit us at Blessed Assurance Farm where you can see and pet our animals up close.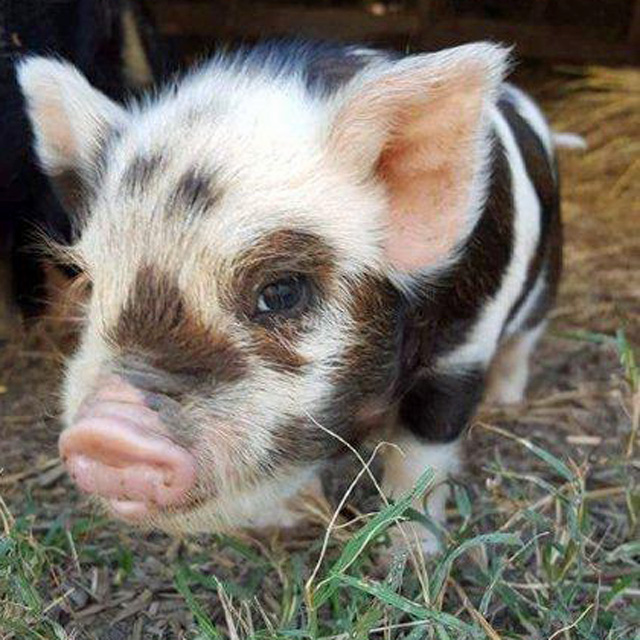 Our First Kune Kune
We will have to wait a while before we have babies but we are looking forward to it. Let us know if you are interested in a Kune in the future.